Two Italian brothers are bringing their home town's tradition of cooking for the masses to London. Nell Frizzell reports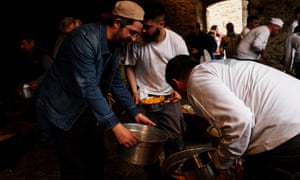 Bowled over: Salvatore Aloe receives his pasta.
I'm standing beside a very large man in a very small Italian football kit, his calves trembling as he pours a mixture of chickpeas, tomatoes and wild herbs over a cauldron of pasta from a ladle the size of a baby bath.
We are at an old monastery in Maida, Calabria, home town to Salvatore and Matteo Aloe, owners of Berberè, a popular restaurant chain in Italy, and Radio Alice pizzeria in London's Hoxton Square. Every year, the whole of the Maida community gets together to stew up buckets of pasta over open fires for 12 hours, before dishing it out to waiting, shouting, pushing, grainy-faced hordes wielding their own cookware.
And this year, the Aloe brothers are hoping to bring the ciciarata – the tradition of cooking pasta on open fires to share out with the community – to London, recreating the celebration of stodge on the streets of Hoxton.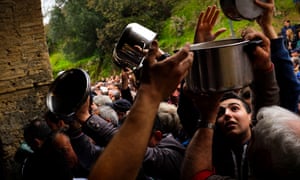 Half an hour earlier, Salvatore and I had walked up the hill to the monastery from his parents' house, where his mother served homebaked sourdough and fresh eggs from the bottom of the garden. The bells rang, and a smell of wood smoke coiled among the olive groves, lemon trees and cacti lining the roads. Salvatore marched purposefully, carrying his mother's supermarket bag-for-life full of plates, plastic spoons, tissues and, of course, a saucepan in which to receive our ration.
The ciciarata began some 500 years ago with the arrival of Saint Francesco di Paola in the town. The monk would apparently share out food to the needy, a tradition re-enacted each spring up here on the hill. It has, needless to say, grown a little in scale since then. We are greeted on this Sunday morning by a full marching band of children with trumpets; a stall beside the monastery sells limoncello from the top of a little wooden table; there are men selling belts and plastic dolls; whole families arrive with picnics and wine to drink under the trees in a nearby orchard. The priests, who bless the two tonnes of chickpeas and five tonnes of pasta with a scattering of holy water, take a quick group selfie before they start.
We had first walked into the wood-smoke chaos of the ciciarata the midnight before, under a shower of fireworks. Men snapped dried olive branches over their knees to stuff under these great cast-iron pots; orange peel was thrown into the fire adding a citrus tang to the existing smell of wood, male sweat and cigarettes. A man with bloodshot eyes and a shaved head ushered me towards the church, talking excitedly about the recipe for a pasta "that needs to sleep".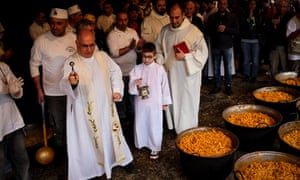 As I gazed up into the lovelorn eyes of San Francesco di Paolo, Salvatore explained that at midnight the chickpeas are heated on the fire, at 3am they add the 200 kilos of tomatoes, at 5am they add the wild fennel and oregano foraged from surrounding fields, at 10.30am they start to cook the pasta and just before midday the whole thing is mixed together to the cacophonous sound of 2,000 hungry people rattling their pans. It's an all-night, all-male fiesta of carbohydrates and community spirit that will make your eyes sting and your mouth water.
Sitting on the dry grass overlooking the Calabrian hills that Sunday, between Salvatore's parents and the few thousand residents of Maida, I wonder quite how such an occasion will translate to east London. I imagine black-cab drivers in cargo shorts and polo shirts smacking bags of pasta into builder's buckets, while club kids stare saucer-eyed and chewing into the bare flames. It could be wonderful. With that thought in mind, I reach for another spoonful.
Radio Alice is hosting its version of the festival on 29 July (radioalicepizzeria.co.uk)
Please follow and like us: